Admin

Hits: 3914
Unpak Engineering Faculty Student Work To Prevent COVID-19 Spread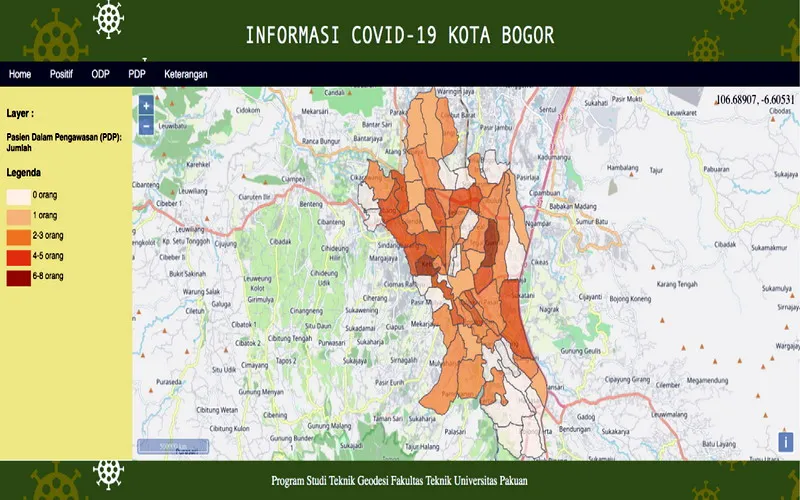 UNPAK - Indonesia has now established the COVID-19 pandemic status as a national disaster through Presidential Decree No. 12 of 2020 Regarding Non-natural Disaster Determination of the Corona Virus Disease 2019 (COVID-19).
At present the spread of COVID-19 which is very difficult to detect and tends to increase the number of affected so as to make serious attention and active participation of all Indonesian people.
As a real effort to reduce the spread of COVID-19, the Faculty of Engineering of Pakuan University through the excellent work of students under the guidance of the lecturer of the Geodetic Engineering Study Program and the Electrical Engineering Study Program has created the Bogor City COVID-19 Information Site and the Sterilization Room / Room Product.
Bogor City COVID-19 Information Site
This site / website is a GIS (Geographic Information System) Web site, a GIS application or digital mapping that utilizes the internet as a communication medium that functions to distribute, publish, integrate, communicate and provide information in the form of text, digital maps and perform analysis and query functions. relating to GIS through internet networks (Prahasta 2007).
The Bogor City COVID-19 Information Site presents a collection of thematic maps related to the Bogor City COVID-19.
It is expected that the Bogor City COVID-19 Information Site will provide information to the public about the COVID-19 distribution case in Bogor City which can be used as a decision making for the Bogor City community to be more careful and alert in traveling and doing activities in the Bogor City area.
Application for COVID-19 Bogor City Information Site can be used through this link and click on http://geodesi.ft.unpak.ac.id/peta/covid19/
Sterilization Room
Sterilization room is a place to carry out the sterilization process to eliminate living microorganisms such as fungi, viruses, parasites, pests and other micro-organisms which are harmful to an object or human.
The presence of this sterilization room  in the CODIV-19 pandemic situation will be very helpful in preventing the transmission of the corona virus through personal and environmental sanitation.
The use of sterilization chamber is designed for humans by considering the working system used, the length of time it is sprayed and the disinfectant liquid used.
This disinfection room / cubicle work system is a manual system development into an automatic system by utilizing ultrasonic sensors as a detection sensor so that it can improve system optimization and increase the effectiveness of the workflow of its users.
The design of the room / chamber of the sterilizer is a walk through chamber in the form of a steam passageway so that people can be sterilized while walking through it in a predetermined time automatically by calculating the contact time and the amount of disinfectant liquid.
The liquid used in the form of tiseptic is different from the disinfectant liquid which is usually used for objects so that it is more environmentally friendly and not harmful to humans.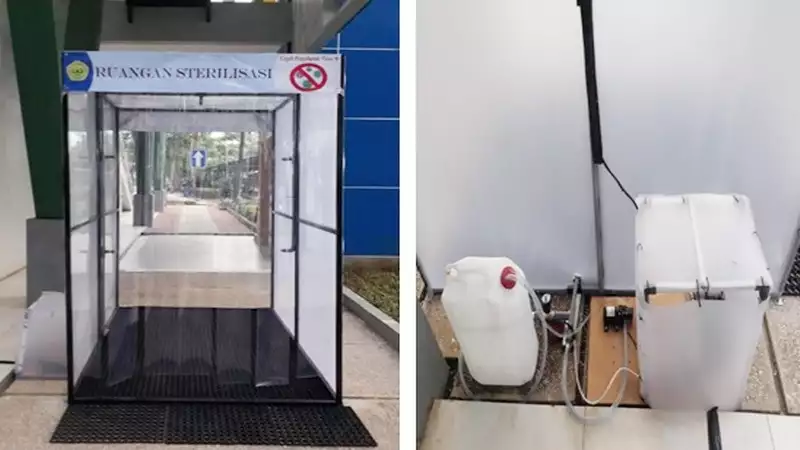 Download full storyPrevention COVID-19