Admin

Hits: 3872
The Role of the Budget for the Implementation of Good Corporate Governance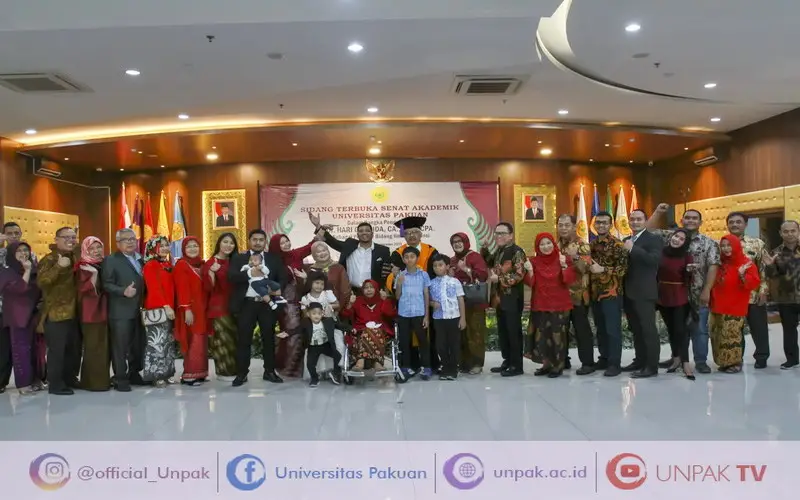 UNPAK - The inauguration of the Pakuan University Senate open session was officially Dr.Hari Gursida CA., MM., CPA as Professor of Accounting, delivering a scientific oration on the Role of the Budget as the Implementation of Good Corporate Governance (GCG).
The Chairperson of the Prof.Dr.Ir.Rer.pol session. H. Didik Notosoedjono., M.Sc along with members and also attended by the Chairman of the Pakuan Siliwangi Foundation H. Subandi Al Marsudi., SH., MH and his staff.
The corporate governance model has become a serious concern after the financial crisis which destroyed economic fundamentals in the Asian countries including Indonesia.
After Good Corporate Governance has been conducted which is already quite good, because of the responsibility to make organizational entities more open, thereby reducing friction or suspicion among the management due to the openness process in GCG along with the company's performance will improve.
The turning point in implementing GCG in Indonesia occurred after the economic crisis in 1997, after the crisis, there was a very strong pressure from various sectors of Good Corporate Governance in Indonesia to improve it.
One of the institutions that paid serious attention was the International Monetary Fund, which urged Indonesia to immediately improve the GCG of the banking sector in order to avoid further economic collapse, and to restore public confidence.
The budget is one tool so that GCG can work together with management to predict the future state of society. So that makes the most important how the future of the Indonesian state to use assumptions if a threat occurs and how to deal with it.
As a large company that has begun to implement that model, one of which is a State Owned Enterprise that has been monitored and so can minimize corruptive behavior.
If everything is transparent, it will be afraid of taking advantage of opportunities people will do no good, because there is continuous monitoring.
Chancellor of Pakuan University Prof. Dr. H. Bibin Rubini., M.Pd, inauguration of Dr. Gursida Day. CA., MM., CPA for his science became the seventh Professor as a lecturer academic position in Pakuan University.
The measurement of ranking and quality of the management of higher education is the good guidance of human resources.
The appointment of professors and the determination of academic positions is a proposition to obtain greater cumulative figures for research. There are about 45 percent of lecturers must carry out research or research that can contribute to the development of the field of science, especially the field of accounting.
On this occasion the presence of Chairman of the Republic of Indonesia BPK Moermahadi Soerja Djanegara, Deputy Minister of the Indonesian Creative Economy Agency Fajar Hutomo, former Deputy Minister of Tourism and Creative Economy of Indonesia Sapta Nirwandar and Coordinator of LLDIKTI IV Wiyah West Java and Banten Prof.Dr. Uman Suherman AS., M.Pd.