Admin

Hits: 3952
The Importance of Culture in Communication was Explained by Filipino Scientists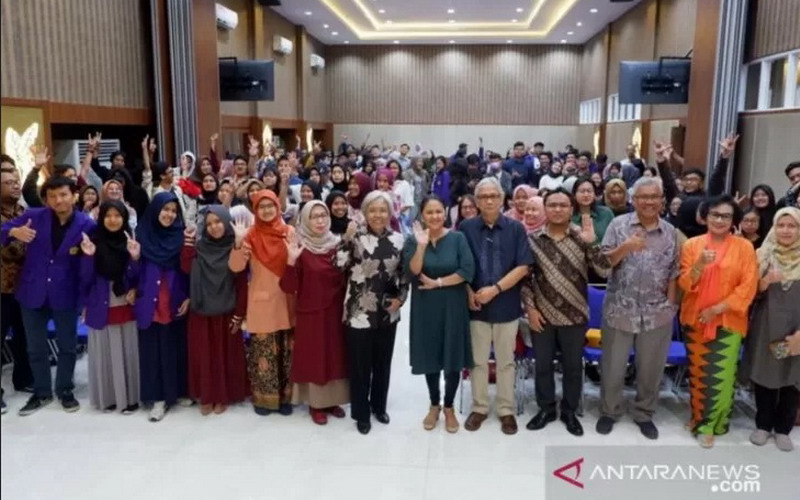 UNPAK - Two scientists from the Philippines, Prof. Alexander G. Flor, Ph.D. and Benjamina Paula G. Flor, Ph.D. called for the importance of culture in communication to students during a visit to the Faculty of Social and Cultural Sciences (FISIB) of Pakuan University (Unpak) Bogor City, West Java, Saturday.
Both speakers from the University of the Philippines-Open University and the University of the Philippines-Los Banos have expertise in the field of cultural communication and information. They delivered a number of communication matters related to the natural, social and cultural environment.
Dean of FISIB Pakuan University, Dr. Agnes Setyowati H., M.Hum. claimed to deliberately present both of them in a public lecture entitled "New Perspective of Communication Studies in Understanding Social Changes and Local Cultures" specifically responding to the development of technology and information that is now completely digital.
Both speakers gave presentations on cultural synergy and communication in empowering people to protect the natural and social environment in a better direction.
Agnes said that in general both speakers stressed the importance of understanding culture as a form of communication and communication as a culture that cannot be separated from one another. Through various forms of effective communication, culture and various forms of local wisdom of the archipelago can be utilized for environmental sustainability.
This is because culture and communication have a very central role in the survival of humans and their environment. This lecture also discusses the central role of the development of information and technology for the development of cultural communication.
"The development of digital technology and information is a phenomenon in itself with a variety of problems. The Generale Studium that we are holding today is one of the efforts that we undertake to continue to learn and update the development of science in related fields," he said.
Because, according to cultural observers who are also the Chairperson of the Indonesian Literature Association of the Bogor Commissariat, there needs to be perspectives and research on the impact on the natural, social and cultural environment of the phenomenon of technological and information development.
He said that this public lecture was the result of collaboration between FISIB Unpak, the Indonesian Literature Association and the Indonesian Development Communication Forum (FORKAPI).
In addition, he plans to explore cooperation and memoranda of understanding with the University of the Philippines-Open University. This form of cooperation is planned to include several things such as student and lecturer exchanges between universities, comparative studies, research projects, advanced study of teaching staff, "distance learning", "visiting lecturer", teaching, service, and others.
Through this collaboration he hopes that in addition to being committed to expanding international cooperation, FISIB will continue to develop various studies or studies related to language, culture and communication.
"FISIB has four study programs consisting of English Literature, Indonesian Literature, Japanese Literature, and Communication Studies. In addition, FISIB also has special attention to the development of culture, language, and communication sciences. Therefore, we are always open to various theories, studies, and even new perspectives relating to language, culture and communication, "Agnes said.