Admin

Hits: 1990
Socialization of Covid-19 Prevention Through Visual Media in Katulampa Village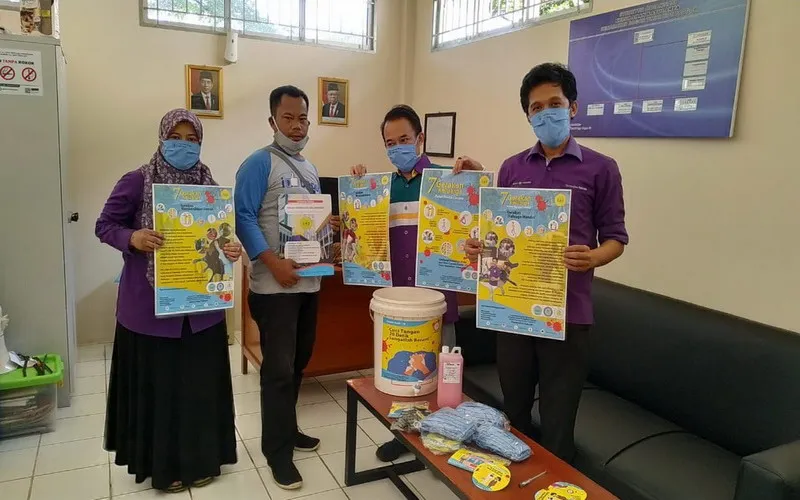 UNPAK - Covid-19 prevention socialization through visual media is a Community Service Program (PKM) of Biology Education in Pakuan University, Bogor which was held in Katulampa Urban Village, Bogor City on Wednesday (22/04/2020).
Visual media used include posters, stickers and key chains that emphasize the 7 Corona Chain Breakout Family Movement.
These movements include the House Cleaning Movement, the Independent Sports Movement, the Mask Wear Movement, the Healthy Eating Movement, the 20-second Hand Washing Movement, the Tree Planting Movement and the Disinfecting Spray.
It is hoped that with the 7 Family Movements it can increase the capacity of the community and break the chain of the corona virus starting from home.
Besides the visual media, the PKM team handed over 100 masks and 8 hand washing installation packages along with the soap. All equipment was handed over directly to the Katulampa District.
Palah as secretary of the lurah explained "The Kelurahan will immediately distribute all these PKM packages in coordination with the RT and RW," Palah concluded.
The Kelurahan also expressed their gratitude for the care of the Biology education lecturer at the FKIP UNPAK.
"Hopefully this collaboration continues," Palah added again.
The hope of this activity is that this visual media can become an information media for the community as an effort to increase understanding so that we can all break the corona chain starting from home.
Source: https://jendelakita.id