Admin

Hits: 945
Pakuan University Praises Ade Yasin Pancakarsa Program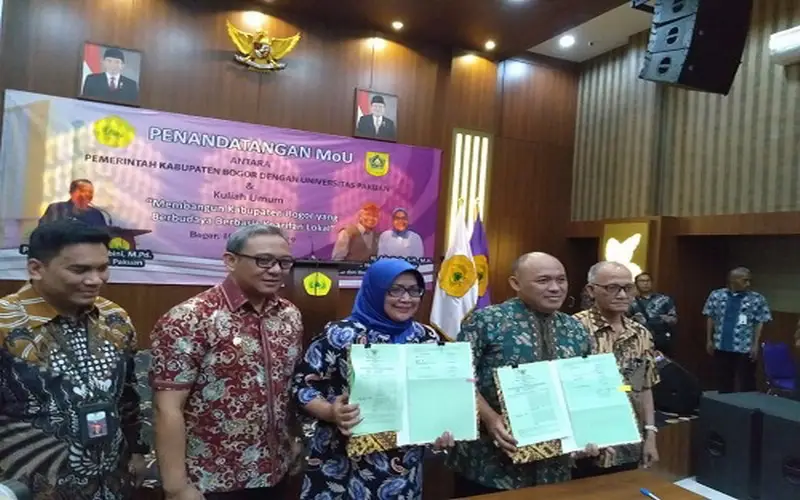 Photo: Signing of MoU between Pakuan University and Bogor Regent at Pakuan University, Bogor City, Thursday (10/10/2019)

UNPAK - Pakuan University praised the Pancakarsa program launched by Bogor Regent Ade Yasin.
This praise was conveyed by Vice Chancellor for Research and Partnership at Pakuan University Prof. Dr. Ir. H. Didik Notosoedjono MSc in the Signing of the MoU between Bogor Regency Government and Pakuan University in Mashudi Hall, Pakuan University, Bogor City, Thursday (10/10/2019).
"The pancake initiative program is very interesting. Because of that, he got the 2019 Innovative Government Award, "said Prof. Didik Notosoedjono
Prof. Dr. Ir. H. Didik Notosoedjono added, Pakuan University participated in the development of Bogor Regency. "We at the Faculty of Economics fostered a number of bumdes in Bogor Regency," he said.
In this event, Bogor Regent Ade Yasin will appear to give a public lecture with the theme "Building a Bogor District that is Cultured Based on Local Wisdom."
In addition to the Vice Chancellor of the University of Pakuan, there was also the Vice Regent of Bogor Iwan Setiawan, the deans and leaders of the Bogor Regency SKPD. (Hari)