Admin

Hits: 2401
Handover of FKIP and FISIB Lecture Building Renovations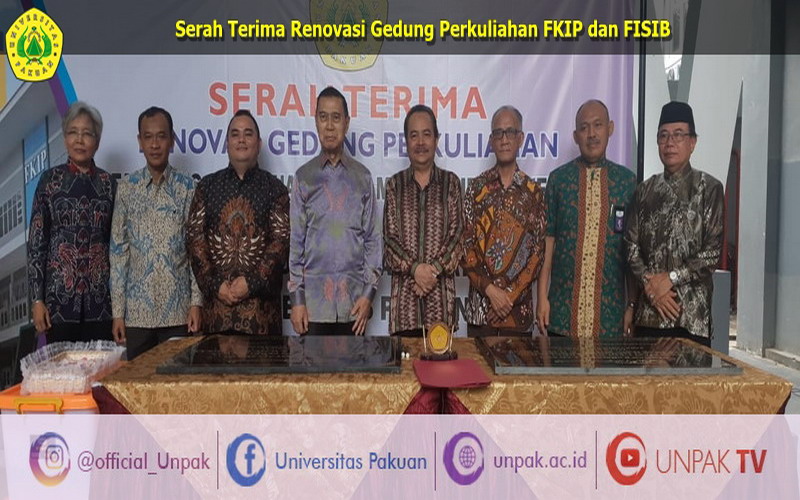 UNPAK - Handover from the developer for the renovation of 2 4-storey buildings for lectures, the Teaching and Education Faculty Laboratory and the Faculty of Social and Cultural Sciences.
The development of educational facilities within the University of Pakuan continues to progress gradually, this is a commitment of public funds that trust in the institutions of the University of Pakuan will be returned to the community.
Pakuan University Chancellor Dr. H. Bibin Rubini., M.Pd together with the Chairperson of the Pakuan Siliwangi Foundation H. Subandi Al Marsudi., SH., MH, expressed his gratitude to Allah S.W.T that in the construction of the building renovation was a mutual cooperation of all the leaders of Pakuan Academic Community.
Hopefully this activity can be a motivation for us to continue to increase contributions in nation and state development.
Lecture room and laboratory infrastructure to provide educational services for Pakuan University students in the learning process, must be included mandatory for us to always maintain a clean environment of all the facilities that are already owned, so that the enthusiasm and confidence of students' parents can continue to be enjoyed.
Signed a letter of submission by the developer Adi Atmaja ST., MT and building inscriptions for both FKIP and FISIB by the Chancellor of Pakuan University Dr. H. Bibin Rubini M.Pd and H. Subandi Al Marsudi SH., MH.
Completion of the renovation will continue with the renovation of the Faculty of Mathematics and Natural Sciences and the Faculty of Engineering.