Admin

Hits: 4077
Followed by 25,000 Gamers, This is the eSports League Winner with IDR 3 Billion Prizes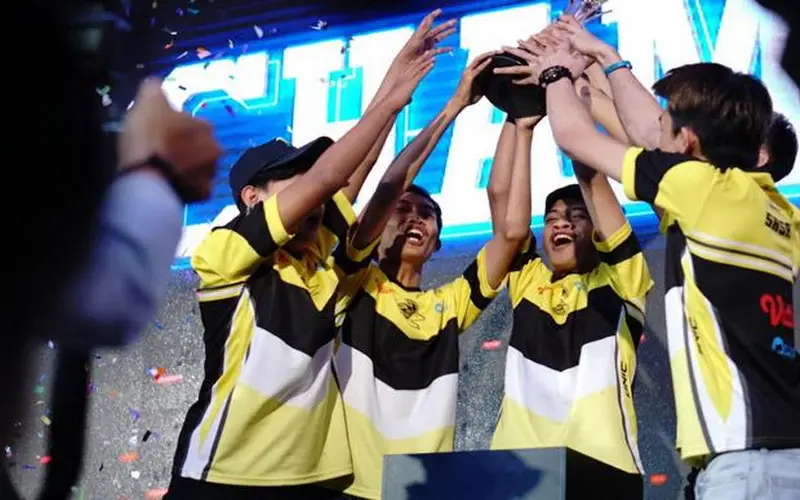 Foto: Telkomsel melalui Dunia Games mengumumkan juara yang berkompetisi di Dunia Games Esport Stadium, Jakarta. Foto/ist

UNPAK - World Games announces the champions who competed in the grand final of the World Games League and the World Games Campus League which took place on 9-10 March 2019 at the World Games Esport Stadium, Jakarta.
While the grand final of the World Games Pro League will be held next April. The winners in the largest eSport league tournament in Indonesia won a total prize of Rp3 billion.
The first winner in the World Games League to compete with the Mobile Legends Bang Bang game was won by the ONIC team, the second winner STAR8, and the third winner Alter Ego.
Whereas the World Games Campus League which played the Free Fire game won first place by the SFI.ZET team from UNIKA Soegijapranata, the second winner of PVT V9 (Gunadarma University), and the third winner was JEJE SQUAD (Pakuan University).
"We congratulate the winners and thank you for the enthusiasm of the participants who competed in the World Games League and World Games Campus League.
We hope this event will become a forum for customers who love games and eSport, "said Head of Digital Lifestyle Telkomsel Crispin Peter Tristram in Jakarta, Wednesday (3/13/2019).
Through this League, he continued, besides competing, Telkomsel wants gamers in Indonesia to interact with each other. At the same time sharing their knowledge and experience about eSport.
Since it was held in October 2018, the World Games League, World Games Campus League, and World Games Pro League have been participated by more than 25,000 gamers throughout Indonesia.
The online qualification round, which aired live streaming on YouTube World Games and MAXstream, was watched by more than 5 million views with a total duration of more than 35 million minutes.
The World Games League has been held simultaneously in 141 cities. While the World Games Campus League takes place on 13 campuses throughout Indonesia.
"With the development of the eSport industry in Indonesia, Telkomsel through the World Games is always present to become a major supporter of this industry through competition," he said.
To date, more than 60 million Telkomsel users from 90 million active players have played mobile games online in Indonesia.
"We also always improve the quality of the 4G LTE broadband network to ensure online gaming services get a very good network with high speed and low latency so gamers can enjoy online games comfortably," concluded Crispin.