Admin

Hits: 2364
FKIP Unpak Implement PKM Online-Based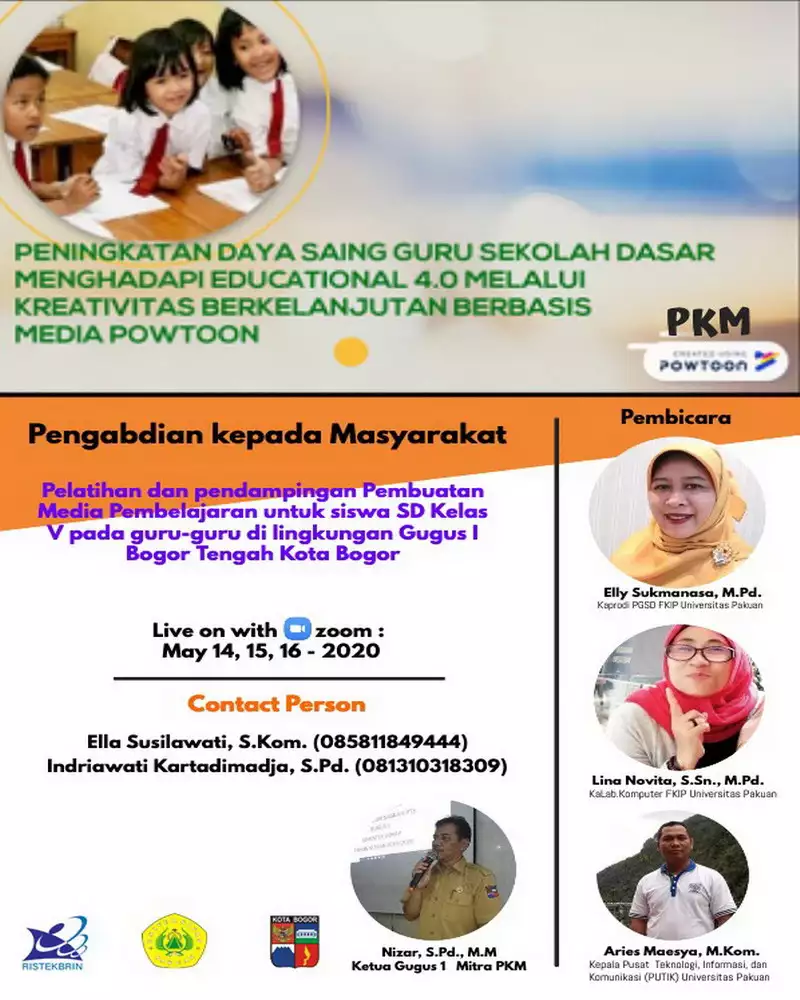 UNPAK - Elementary School Teacher Education Study Program (PGSD), Teaching and Education Faculty (FKIP) Pakuan University conducted Community Service (PKM) online training for Powtoon learning media.
With the theme "Improving the Power of Elementary School Teachers Facing Educational 4.0 Through Continuous Creativity Based on Powtoon Media", to teachers in the Central Bogor Cluster I environment in the City of Bogor.
The training and mentoring activities were carried out online Join Zoom Meeting, on the 14th to 16th May 2020 starting at 8:00 to 14:00 with participants from Bogor Central Bogor Cluster I Partners, namely SDN Courts 1, SDN Courts 2, SDN Courts 4, SDN Pengadialn 5 , and SDN Perwira with a total of 34 teachers.
The guest speaker of the activity was Elly Sukmanasa, M.Pd. Lina Novita, S.Sn., M.Pd. and Aries Maesya, M.Kom. with material including:
Introduction of Rt. Platform-based teaching materials. 4.0
Introduction of Powtoon interactive learning media.
Practice establishing a Powtoon account.
Practice making lesson material on Powtoon.
Presentation of the results of making Powtoon.
Evaluation and evaluation of Powtoon products.
Head of cluster 1 Bogor Tengah Bogor City; Nizar, S.Pd. MM. expressed their gratitude for the training and mentoring and teachers were expected to be able to apply it to the learning process of the students.
So that teaching and learning activities will be active, creative, effective, pleasing and full of innovation so that learning objectives can be achieved in line with expectations, hopefully there are other activities in order to develop the scientific insights of the teachers in the Central Bogor Cluster 1 Bogor City.
Source: https://jabaronline.com
Download full storyPKM Online