Admin

Hits: 2108
Faculty of Law Unpak and MMU Discuss Cyber Crimes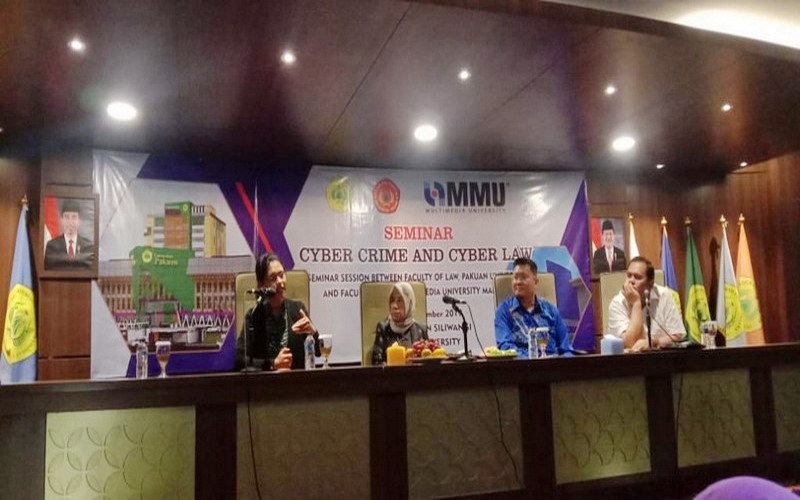 UNPAK - The Faculty of Law of Pakuan University (FH Unpak) in collaboration with the Faculty of Law Malaka Multimedia University (MMU), held a cyber crime seminar and cyber law enforcement on the tenth floor of the Graha Pakuan Siliwangi (GPS) building, Monday (9/16/2019).
It aims to explore cyber crime that is rife in parts of the world. Not only in Indonesia. As stated by the Dean of the Faculty of Law MMU Manique Cooray.
This Sri Lankan woman pointed out, in her country women and children are often victims of cyber crime. He had found cases of 34 young girls, promised to be employed as maids in Malaysia.
However, upon arrival in the neighboring country instead forced to be a comfort girl. "They are victims of pornography that is sold for profit," he said.
According to Manique, cyber crime is closely related to human trafficking. This is inseparable from the existence of electronic transactions between the seller and buyers from other countries. "The case I presented earlier is clear evidence of the connection," he added.
Enforcement of cyber law is not limited to state boundaries and jurisdiction. Although the culprit is in Sweden for example, Malaysian police can make arrests based on evidence available on the internet.
While the Dean of the Faculty of Law Unpak, Muhammad Mihradi said, the seminar on cyber crime and cyber law enforcement is a form of cooperation between Unpak and MMU. As well as a return visit when the Faculty of Law Unpak visited Malacca at the end of July.
"Next there will be student exchanges and cooperation agreements between universities. Now it's only at the faculty level, "he said.
"Later the results of studies and seminars from both faculties will be published in a book. Maybe next year can be realized, "concluded Mihradi.
Besides Manique, also present as speakers from UMM, Wong Hua Siong and lecturer in criminal law at the Faculty of Law Unpak, Asmak Ul Hosna. (Rur)