Admin

Hits: 1650
Ex-Kadisparbud Bogor Congratulates for the Existence of Unpak Mask Fight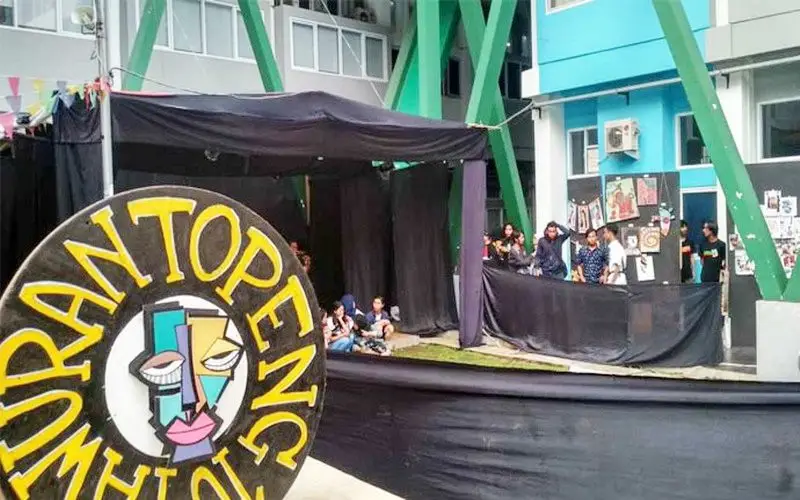 Photo: Mask Fight Pakuan University

UNPAK - Former Head of the Tourism and Culture Office (Disparbud) of the City of Bogor, Sahlan Rasyidi, revealed that it was not easy for the campus theater group to be able to maintain routine events for up to a decade.
As performed by the Karoeng Theater group, Faculty of Social and Cultural Sciences (FISIB), Pakuan University (Unpak), Bogor, with its annual activity, Tawuran Topeng, last weekend.
"It's not a short thing but a long journey," Sahlan said to Radar Bogor, Monday (01/20/2020).
This Expert Staff in Government, Law and Politics, Bogor City Government also explained, to innovate in the world of art, especially on the stage, Karoeng Theater has proven its consistency in the performing arts with their work that is able to build character in accordance with its era.
Sahlan said, by producing many of the best works of Karoeng Theater, hopefully they can continue working. In fact, he said, the resulting work can continue to educate all people according to the times, especially in the city of Bogor.
"Also able to provide education and spectacle for theater arts lovers in Bogor," said Sahlan.
According to Sahlan, the development of the performing arts in the city of Bogor to date has been very rapid. Both among the middle class and millennial groups.
Sahlan explained, the rapid art in Bogor can be seen from the emergence of studios, cultural and artistic communities, until the community of old song lovers began to surface.
"Likewise with the tight schedule for the use of the Kamuning Gading Art Building for staging. This is also a proof that the arts are starting to develop rapidly, "concluded Sahlan.
Download full storyMask Fight Unpak