Admin

Hits: 1018
Educational Seminar "If Characters Are Missing, All Will Be Lost"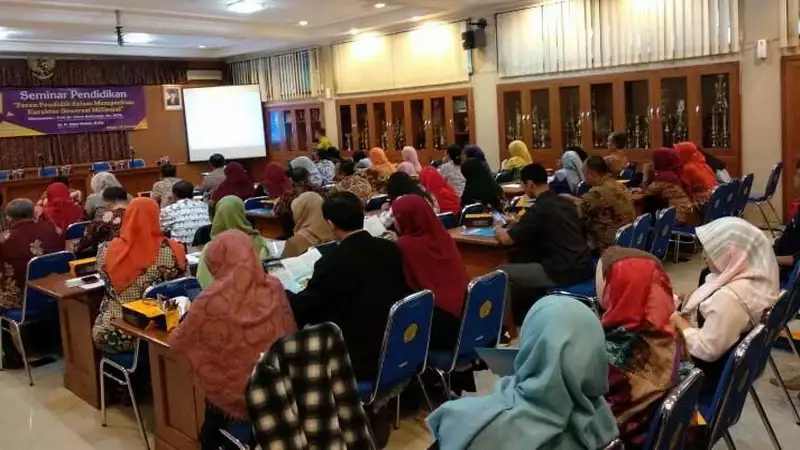 Photo: Educational Seminar "The Role of Education in Strengthening the Character of Millennial Generation"
UNPAK - Educational Seminar entitled "The Role of Education in Strengthening Millennial Generation Characteristics" of the Teaching and Education Faculty (FKIP) to prepare qualified and personality educators, in the Hall of the Pakuan University Rectorate Hall.
On that occasion, the Dean of the Faculty of Education and Education at Pakuan University, Dedi Sopian M. Pd, said that in addition to the submission of the Teacher Professional Education Decree (PPG) to the Teaching and Education Faculty (FKIP). "Also the Head of the Institute of Higher Education Services Prof. Dr. Umam Suherman As, M. Pd. to give and present a seminar namely "The Role of Education in Strengthening Millennial Generation Character" is very interesting, "Dedi said in his speech.
Meanwhile, the Chancellor of the University of Pakuan Bibin Rubini, said, if this character is lost then everything will be lost, not only property, honor and dignity will also be lost, how important is this character.
"This seminar activity is to provide reinforcement for teachers of their obligations, because the teachers are not only teachers but educators, so in education and in the profession as educators but more importantly is the transfer of culture and values," he told Jabaronline.com .
According to him, the values ​​contained are related to cultural values, life values, human values ​​and religion. "They not only provide examples but must become examples in daily life because in essence, teachers will definitely be imitated by their students, if we want to teach character education then the teacher must have character first, if the teacher has character then it can transfer the character to students her, "he said.
Then he added, his messages were that teachers in various fields both in schools and in the community would be an example, so the behavior of teachers must show good examples to provide good education.
"Moreover, we are dealing with millennials, so they are not only intelligent and must also have character. "There are a number of teachers from elementary school (SD), junior high school (SMP) and senior high school (SMA) levels, and there are school principals," he added.
The seminar was attended by the Secretary of the Bogor City Education Office, and was also attended by students who took part in teacher professional education from disadvantaged areas such as Papua who were attending teacher professional education. (Sarah Mira / Bagas)
Release : jabaronline.com, 19 January 2019
Unduh artikel selengkapnyaEducational Seminar